Specifications of Grade 80 Alloy Lifting Chains EN818-2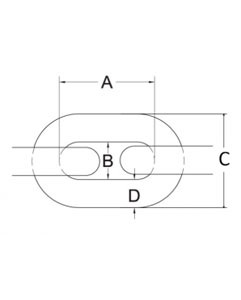 Part No.

Size




(mm)

WLL




(T)

B.L.




(T)

A




(mm)

B min




(mm)

C max




(mm)

LG-8-Chain-06

6±0.24

1.12

4.48

18±0.5

7.8

22.2

LG-8-Chain-07

7±0.28

1.5

6

21±0.6

9.1

25.9

LG-8-Chain-08

8±0.32

2

8

24±0.7

10.4

29.6

LG-8-Chain-10

10±0.4

3.15

12.6

30±0.9

13

37

LG-8-Chain-13

13±0.52

5.3

21.2

39±1.2

16.9

48.1

LG-8-Chain-16

16±0.64

8

32

48±1.4

20.8

59.2

LG-8-Chain-18

18±0.90

10

40

54±1.6

23.4

66.6

LG-8-Chain-20

20±1.00

12.5

50

60±1.8

26

74

LG-8-Chain-22

22±1.10

15

60

66±2.0

28.6

81.4

LG-8-Chain-26

26±1.30

21.2

84.8

78±2.3

33.8

96.2

LG-8-Chain-32

32±1.60

31.5

126

96±2.9

41.6

118
Caution:
Do Not Use for Overhead Lifting. DO NOT EXCEED THE WORKING LOAD LIMIT.
WORKING LOAD LIMIT designates the maximum stress in pounds which should ever be applied to chain. This refers also to chain in the best condition, when new, and when the load is applied uniformly to a straight, untwisted length of chain.
WARNING: WORK LOAD LIMIT MUST NOT BE EXCEEDED
BREAK TEST LOAD is the minimum load in pounds at which new chain has been found by experience to break, under tests in which the load is applied in direct tension to a straight length of chain with a uniform rate of speed on a standard chain testing machine.