Specifications of Zinc Plated S-Hook, Galvanized S Hook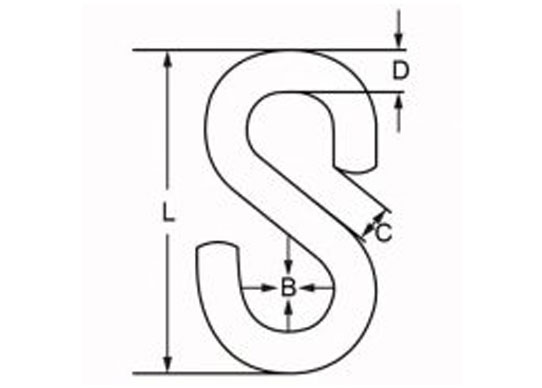 | | | | | | | |
| --- | --- | --- | --- | --- | --- | --- |
| Part No. | Size | B | C | D | L | N.W. |
| S Hook | mm | mm | mm | mm | mm | kgs/100pcs |
| LGSHZP01 | 2.5 | 6 | 3 | 2.5 | 20 | 0.17 |
| LGSHZP02 | 3 | 7 | 3.5 | 3 | 25 | 0.3 |
| LGSHZP03 | 3.5 | 9 | 4 | 3.5 | 30 | 0.48 |
| LGSHZP04 | 4 | 11 | 5 | 4 | 35 | 0.78 |
| LGSHZP05 | 4.5 | 12 | 5.5 | 4.5 | 40 | 1.15 |
| LGSHZP06 | 5 | 14 | 6 | 5 | 45 | 1.52 |
| LGSHZP07 | 6 | 16 | 7 | 6 | 55 | 2.6 |
| LGSHZP08 | 7 | 181 | 8 | 7 | 65 | 4.5 |
| LGSHZP09 | 8 | 23 | 10 | 8 | 75 | 6.5 |
| LGSHZP10 | 10 | 25 | 13 | 10 | 100 | 12.6 |
| LGSHZP11 | 12 | 30 | 15 | 12 | 120 | 15 |
WARNING: Once the S-hooks have been opened they will have to be replaced to avoid injuries from coming open and/or breaking.
China LG Supply offers a wide variety of Regular Wire Hooks.
"S" Hook also available in Stainless Steel Material( AISI304, AISI316), has an excellent finish for use in applications with extreme exposure to dust, chemicals or the environment (such as salt water).