Specifications of Grade 70 Eye Slip Hook with Latch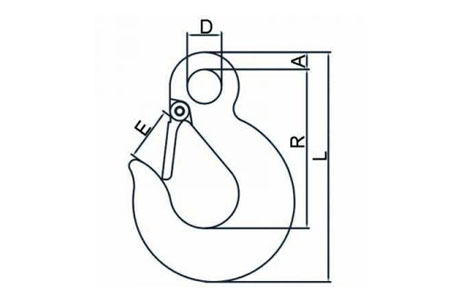 Part No.

Size

WEIGHT

WLL

A±0.3




(mm)

D±0.5




(mm)

R±1




(mm)

E±1




(mm)

L±1




(mm)

lbs

lbs

LG-70-ESH+L-1/4

1/4″

0.22

2750

8.5

13

65.5

18.5

93

LG-70-ESH+L-5/16

5/16″

0.3

4300

9

16

74

24.5

107

LG-70-ESH+L-3/8

3/8″

0.67

5250

10.25

18

86.5

32.5

123.8

LG-70-ESH+L-7/16

7/16″

0.71

7000

12.7

20.6

98.8

32

142.5

LG-70-ESH+L-1/2

1/2″

0.95

9000

14.5

23

109.5

41.5

156
Warning!!!
Do not exceed the working load limit.
Not to be used for overhead lifting.
The latch is only designed to retain slings and rigging attachments. The latch must not support the load.
Also available in Eye Slip Hook with Latch Grade 43.
China LG Supply offers a wide variety of Regular Forged Hook.