Unique Safety Release Design
The Lever Load Binder features a unique design.
The binder's body independently rotates free of the handle allowing the user to easily and safely release the load, unlike traditional lever binders which can kick back violently when released under tension.
General Specs
The Safety Release Lever Binder has a yellow powder-coated finish and drop-forged hooks which have the size and grade markings forged into the hook.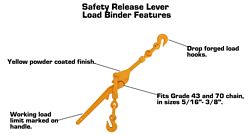 Its working load limit of 5,400lbs is marked on the handle.
The binder is available to fit chain sizes 5/16 to 3/8 in both Grade 43 and Grade 70 chains.
Operation
Before operating, be sure to check and follow your equipment's manual and all transportation regulations for the jurisdictions for which you'll be traveling. Check out the Federal Drivers Handbook for Cargo Securement to ensure your cargo is secured correctly for transport.
Attaching Binder
To begin the operation, open the lever binder and attach the binder to the binding chain while taking up as much slack as possible.
With your arms fully extended, use two hands to grab the top of the binder handle and pull the handle back until it has been completely closed and set into place.
This process may need to be repeated if the chain is not at the desired tension.
Wrap any remaining chain around the binder handle and secure the loose end with a zip tie.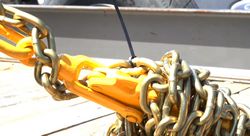 Removing Binder
Slowly pull upwards on the binder handle until the tension has been released, and then remove the binder from the chain.